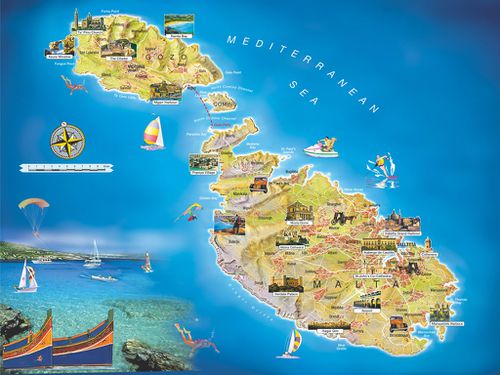 Just landed in Malta you realize that people living at a different rate, seem stuck in the past, where still stress and technology have not called their doors, where progress has been somewhat parked and they give value to others perhaps less material ..... who is old enough to remember this Spanish Mediterranean seaside area of ​​the 80 and bridging differences is the first feeling that I've taken from this country.

Flight time from Madrid is 2 hours and Malta has a very small airport but pretty decent for an island as tiny as this measuring just 25 km long and 7 meters wide but with a very high population density.

The way to get to the center of Valletta is using a very old taxi or bus stop with rudimentary methods by a rope that rings a bell metal. Prices is also surprising, 0.47 cents, I don,t think there,s another country in the CEU move you from the airport to the capital for these prices.

In Malta there are no highways and roads are downright bad and travel 15 km no wonder employ over an hour.

Once you get to the bus station in La Valletta's where you change to another bus to go to the destination on the island where you decided staying.

I'm staying in the village called Saint Julians and more specifically in the Paceville area famous for lively nightlife and where to find good safe environment at any time of year due to the many students who come to Malta to study English and which in my opinion is a great candidate when selecting a destination for learning this language because there are many circumstances in his favor ..... English is the official language of the country, good weather, life is cheap and very flattering newspaper nightlife when implementing everything explained in schools.

A very interesting option is offered Linguatime, modern facilities and qualified teachers; They have competitive prices and a great location. To whom it may interest you put a link to your web www.inglesenmalta.es

I rented an apartment pretty basic and nothing fancy that has three beds a bathroom and a kitchen and the price per night is 18 €, for those who may be interested, it,s called Smile apartments.

The Maltese climate is very pleasant, is a Mediterranean island and the average winter temperature is 17 degrees during the day so it is appreciated when visiting the place without suffering the cold winter.

Valletta is smaller than I imagined, just 4 main streets with a lot of movement during the time during comercial timetable. while I'm visiting it, I,ve mixed feelings, it certainly has a special charm but also feels much sloppiness with its architecture and very dirty which diminishes quite charming ...... It reminded me a bit of Dubrovnik but without of course up to the Pearl of the Adriatic.

In Valletta can visit his castle, a war museum, Fort St. Telmo and the Church of Saint John.

From Upper Barraca Gardens there are wonderful views of the fort San Angelo.


With the beaches have been a big disappointment because despite having sunshine and good weather over 9 months of the year only has miles of beach since much of the island are cliffs. Most of the beaches in the northwest, in the St Pauls Bay. This is the area that most tourist development has had in recent years and is the preferred destination for Maltese.

A good way to see the island is by tour offered for the Citysightseeing company; you can explore the island on their buses which have information of all sites in 9 languages ​​through a voice through headphones. You,re going to stop at the places you want and get on next bus. They pass every 30 minutes and you continue the journey. The price is 13 €.

The place that most caught my attention was Mdina, the old capital and is full of charm and history. It is the highest point of the island and has a nice view of the island.
In almost all the streets will find charming restaurants ideal for couples wanting a pleasant evening.

I leave Malta with acceptable sensations it has an ideal ingredient for a trip that is the good climate and a singular charm but it is a place that when I go back home already and doing a review on the trip have said " I'll be back. "

I think three days is enough time if you can use them to capture their essence.
See you next time!!!